Fritz Steudler
F. W. Steudler (known as Fritz) bought Vallorbs Jewel Company less than two years after graduating from Millersville State Teacher's College in 1934. He had worked there after learning how to set jewel watch bearings from his father, Simon who worked at Hamilton Watch Company. After a few years of manufacturing watch bearings, he led the company into supplying precision aircraft instrumentation bearings.
After WWII, he manufactured Sapphire Phonograph needles as the popularity of the Victrola grew. In the early 1950's he bought his first Swiss Automatic Screw Machine and Vallorbs has been a quality leader in screw machine manufactured components ever since.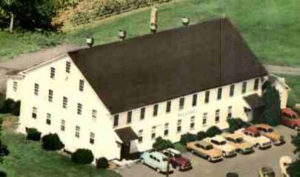 Sapphire phonograph needles (1940-50's)
Jeweled bearings for Swiss watches and the aircraft industry (1930-50's)
End plugs and special components for the nuclear industry (since 1970's)
Critical machined components for the medical industry (since the 1980's)
What started with jeweled bearings in the early 1900's has grown to encompass a broad range of industries served. Advancements in energy production, technologies, flight, and medicine have called for new precision parts made out of new kinds of metal.
We service the following industries:
Nuclear
Agricultural
Medical
Aircraft
Electronics
Instruments
Learn about our Core Values.
Vallorbs is a member of the VAL-CO family.
The VAL-CO Board and management are committed to guiding their businesses
based on the following Core Values. These principles are non-negotiable, support everything
that we do, and define our corporate culture. While we are imperfect people and may
at times fail ourselves and others, we are committed to holding each other accountable
so that our behavior reflects these Core Values.
Biblical Principles
Our core values are aligned with God's Word and reflect Christ. God has
temporarily entrusted His company to us and we should honor Him in all that we do.
Value People
VAL-CO recognizes the importance and value of our employees and their families,
and our customers and vendors. Each of their contributions are an integral part
of the company's overall success.
Integrity
We act with honesty, not compromising the truth, in the face of all obstacles. While business
results are critical, how results are achieved are as important as the results themselves.
Quality
VAL-CO will always strive to deliver the value that our customers, employees,
shareholders and other business partners expect every time we interact with them.
Profitability
We have a responsibility to earn consistent and satisfactory profits for our shareholders,
and to reinvest in our people, products and processes.
Stewardship
As temporary managers of God's company, we will be good stewards of the profits
that He has allowed us to earn, by sharing with those that are less fortunate.