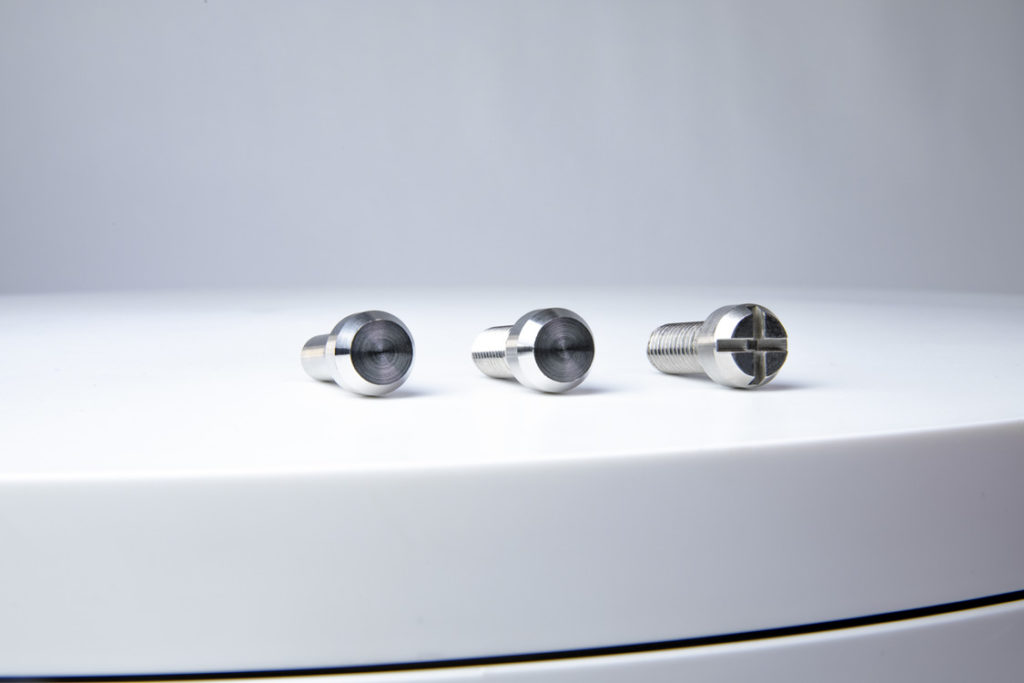 Vallorbs Jewel Company offers numerous secondary operations such as, milling, broaching, gun drilling, thread rolling, as well as a variety of surface finishing. Small components are finished to super fine or rough textures through burnishing, lapping, and surface grinding.
Offering micro finishes down to 4 µ inches (0.10 µ M finish) makes our lapping services distinctive for small intricate parts. We use a Sunnen MBB-1650 Horizontal Honing Machine to provide internal honing, with light abrasives such as silicon carbide, aluminum oxide, cubic boron nitride (CBN), as well as diamond hone stones.
Thread Rolling/ Knurling
Diameters ranging from .078" to 2" and up to 3" in length. Thread pitches from 7 to 56 TPI and thread tolerances that exceed customer expectations.Knurled parts with intricate patterns.
Gun Drilling
Capabilities are .078" to 1.250" diameter and up to 11" uninterrupted depth with clamping capabilities on round, square or hexagon stock.
Centerless Grinding
Tolerances to +/-.0001 and diameters from 1/16" to 3 1/2".
Lapping
Finishes down to 4µ inches (0.10um).
Burnishing
Our capabilities are diameters from .025 to .5 with lengths up to 1.000" and finishes down to 12µ inches (0.30um).
"I wish more companies took pride in customer satisfaction like Vallorbs.
Their quality and delivery ratings for the past two years has been 100%."
– AMETEK/USG
Secondary Operations Equipment
SCHAUBLIN 102 LATHES/OMNI TURN CNC ATTACHMENT
SCHAUBLIN 102 LATHES
K-20 KUMMER
WADE TURRET LATHES
HARIG SURFACE GRINDER
DENISON MULTI-PRESS
DELTA PECK DRILLING MACHINES
TESKER THREAD ROLLER MODEL 200
SUNNEN MBB-1650 HONING MACHINE
LANDIS CENTERLESS GRINDERS
SCHRADER BELLOWS PECK DRILLING MACHINE
SUGINA DRILLING MACHINE
CINCINNATI MILLING MACHINE
ULTRASONIC VAPOR DEGREASERS
HENRI HOUSER PIVOT POLISHERS
NORTON SURFACE GRINDER