Best Wishes! Jean Hershey Retires After 64 Years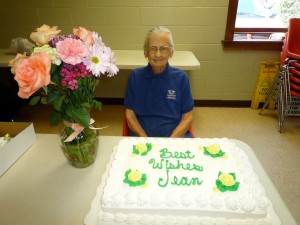 Jean Hershey, who worked in our Bird in Hand facility as an inspector, started with the Vallorbs Jewel Company on August 20, 1950, at the age of 22. At the time, Vallorbs was making small jewel bearings for aircraft instruments as well as sapphire phonograph needles. Jean officially retired May 2, 2014 at the age of 86.
Jean started her employment here inspecting phonograph needles. When we started manufacturing end plugs for Westinghouse she was dubbed the end plug inspection expert. In her first 50 years of employment she never missed a day from work.
Hershey, raised on a farm as the oldest of eight children, said she has learned one key lesson about doing her job well. "Be sure you know what you're doing and listen to the boss. And if you don't know what you're doing, be sure to ask, just don't pretend you do," she said.
We wish you the best, Jean! Thank you!